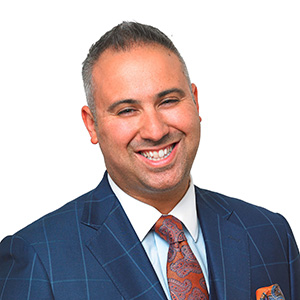 The Gino Bello Homes Sales Team | Associate Real Estate Broker Houlihan Lawrence
Houlihan Lawrence
237 Mamaroneck Avenue
White Plains, NY 10605
Email Phone: 917-653-4099 Direct Phone: 914-328-6300x15332 Fax: 914-328-7902
About Biagio
For Gino Bello, if his heart isn't in it, he just can't do it. That's why it was a relatively easy decision to leave his accounting job at KPMG to pursue a career as a realtor. "From the time I was pretty young, I knew two things: I loved real estate and I wanted my own business."
So, at the age of 25, Gino began making his way in an industry where 92% of his colleagues don't succeed. "That's what drove me. I refused to fail." And, it didn't take long for him to realize he'd truly discovered his passion, and a deep commitment to his craft. "Two weeks after I got my realtor's license, I changed my license plate to 'Top Realtor.' Sure, I got laughed at, but my goal was to be the best at what I do."
Fast forward fifteen years, and Gino is among the top real estate agents in Westchester County. Behind him is a wildly successful team-based business he built from scratch with Gerry Magnarelli, his childhood best friend from the Bronx. He boasts about 800 homes sold over the last 15 years, and knows the ins and outs of buying and selling in Westchester like the back of his hand. Calling him "straightforward" and a "pleasure to work with," clients return to Gino again and again, relying on his expertise, his patience, and above all, his integrity. "I have no trouble sleeping at night because no matter what, the client comes first, not the commission."
Married to his college sweetheart, whom he met at Fordham University, this ambitious boy from the Bronx feels right at home in White Plains where he's raising three kids. "Every time I make a decision, I ask myself, what would my family think?" In this emotionally-charged business of complex but rewarding life-changing decisions, "there will always be rainstorms," he says, "but doing the right thing is what matters to me." And, for this accountant turned top realtor, "I just don't want to do anything else."
One of the Top Realtors in Westchester County in Transactions
2016 – Ranked 38 of 170 of Top Real Estate Agents by Transactions by Real Trends' America's Best Real Estate Agents
2016-2010 – "Five Star Agent Award Recipient" by Westchester Magazine
2015-2014 – Voted "Best Realtor in Westchester" by Westchester Magazine
2009 – "Rising Stars – "Westchester's 40 under 40 Award Winner" by Westchester Business Council
2008 – Featured in Westchester County's Business Journal – "Male Executives of Westchester"
Platinum Level Award Winner with Hudson Gateway Multiple Listing Service
Quality Service Certified
Accredited Buyers Representative, ABR
Short Sale & Foreclosure Representative, SFR
Member of Hudson Gateway Association of Realtors, HGAR
Member of Hudson Gateway Multiple Listing Service, HGMLS
Member of New York State Association of Realtors, NYSAR
Member of National Association of Realtor, NAR
Member of Greater Fairfield County Multiple Listing Service, CMLS
Previously a Relocation Tax Specialist for KPMG
Fordham University Alumni
Fluent in Italian
Biagio's Testimonials
Gino could not have been more professional or helpful. He's an expert on the market and his selling strategies are excellent. We could not have been happier with our experience and I doubt we would have been as successful without Gino's work.
D. Christiva - White Plains, NY
Gino was the ultimate partner to us during our home sale and search. He was with us and available through every step in the process. Given the current housing market and the unique issues with our home, we had a lot of challenges, but Gino was relentless in finding a buyer and placing us in a new home that better met our needs. He was always available to answer our questions, provide strategic counsel and find solutions. If you're looking to buy, sell or rent in Westchester County - I [...]
- Eastchester, NY
Gino was wonderful. We had a complicated estate sale where we had to do a renovation and sell it long distance - he was on top of it, communicated with us long distance, gave great referrals, and got us an offer the first week on the market...just as he said he would. He is great! I would highly recommend him!!!
J.K. - White Plains, NY
Gino was our agent for both selling our previous house and buying the new house. He used a stager, a professional photographer to help sell our house. We had an accepted offer after only one weekend. The buyer had some issues with getting a mortgage and Gino used his connections to help them get a mortgage as quickly as possible. Helped us close on our house as quickly as possible. He went above and beyond his duty as a seller's agent.
Maddie - White Plains, NY
Helpful, attentive and professional. Answered all calls and texts promptly. We needed to find a house very quickly, and he frequently altered his schedule to suit ours. Gave us honest feedback, both positive and negative, about all the properties we looked at. During negotiations kept in constant touch with the seller's broker and with us. Helped us find contractors to renovate our new home. A pleasure to work with.
- Rye Brook, NY
I have worked with numerous agents in the past. Gino Bello clearly stands heads above the rest with his knowledge of residential real estate and all the complexities of the buy/sell process, his in-depth understanding of local markets, excellent customer facing skills and his integrity. Gino's efforts to properly market the property and get the word out via various web sites, local agents, and good old fashion contacts are the among the BEST. He also will set realistic expectations [...]
S. Karpel – White Plains, NY
We've bought and sold homes several times in the past having dealt with different brokers. Gino Bello and his team were, by far, the most thorough, most professional and most accessible of them all. He listed our home on a Thursday and had it sold by Monday. We highly recommend Gino Bello for anyone looking to buy or sell a home.
T. & K. Becerra – White Plains, NY (Prospect Park)
Gino is a real estate expert! He guided me through the pre-sale preperation process (very important) and within 2 weeks of listing in December 2011 I had a successful negotiation with a qualified buyer. We closed within 57 days. It was a smooth process from beginning to end. I am a relocation expert (25 yrs.+), but when it came to my property, I needed an expert to manage the sale. Experts need experts, too! He gives excellent advice, solves problems quickly and is always available to [...]
C. LaRosa – White Plains, NY
We just closed on the sale of our house. This process would not have had the same wonderful outcome if not for Gino. There are a few reasons Gino is so successful 1- he knows the market like the back of his hand 2- he TRULY has your best interest at heart and NOT his own 3- he surrounds himself with other vendors who have the same ethos. He is all class and ensures even the most stressful situations are handled seamlessly.
jescottpsyd - White Plains, NY
Gino was very professional and always had our best interest in mind. We never felt pressured and he listened and answered all of our concerns and questions. The purchase of our new home went very smoothly because of Gino. We really trust Gino and would never consider using another realtor.
A. & J. Orlando – Yorktown Heights, NY