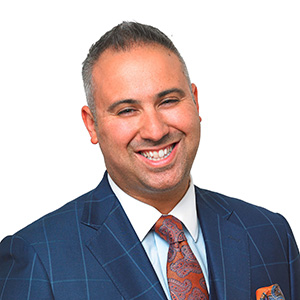 The Gino Bello Homes Sales Team
|
Associate Real Estate Broker
For Gino Bello, if his heart isn't in it, he just can't do it. That's why it was a relatively easy decision to leave his accounting job at KPMG to pursue a career as a realtor. "From the time I was pretty young, I knew two things: I loved real estate and I wanted my own [...]
For Gino Bello, if his heart isn't in it, he just can't do it. That's why it was a relatively easy decision to leave his accounting job at KPMG to pursue a career as a realtor. "From the time I was pretty young, I knew two things: I loved real estate and I wanted my own business."
So, at the age of 25, Gino began making his way in an industry where 92% of his colleagues don't succeed. "That's what drove me. I refused to fail." And, it didn't take long for him to realize he'd truly discovered his passion, and a deep commitment to his craft. "Two weeks after I got my realtor's license, I changed my license plate to 'Top Realtor.' Sure, I got laughed at, but my goal was to be the best at what I do."
Fast forward fifteen years, and Gino is among the top real estate agents in Westchester County. Behind him is a wildly successful team-based business he built from scratch with Gerry Magnarelli, his childhood best friend from the Bronx. He boasts about 800 homes sold over the last 15 years, and knows the ins and outs of buying and selling in Westchester like the back of his hand. Calling him "straightforward" and a "pleasure to work with," clients return to Gino again and again, relying on his expertise, his patience, and above all, his integrity. "I have no trouble sleeping at night because no matter what, the client comes first, not the commission."
Married to his college sweetheart, whom he met at Fordham University, this ambitious boy from the Bronx feels right at home in White Plains where he's raising three kids. "Every time I make a decision, I ask myself, what would my family think?" In this emotionally-charged business of complex but rewarding life-changing decisions, "there will always be rainstorms," he says, "but doing the right thing is what matters to me." And, for this accountant turned top realtor, "I just don't want to do anything else."
One of the Top Realtors in Westchester County in Transactions
2016 – Ranked 38 of 170 of Top Real Estate Agents by Transactions by Real Trends' America's Best Real Estate Agents
2016-2010 – "Five Star Agent Award Recipient" by Westchester Magazine
2015-2014 – Voted "Best Realtor in Westchester" by Westchester Magazine
2009 – "Rising Stars – "Westchester's 40 under 40 Award Winner" by Westchester Business Council
2008 – Featured in Westchester County's Business Journal – "Male Executives of Westchester"
Platinum Level Award Winner with Hudson Gateway Multiple Listing Service
Quality Service Certified
Accredited Buyers Representative, ABR
Short Sale & Foreclosure Representative, SFR
Member of Hudson Gateway Association of Realtors, HGAR
Member of Hudson Gateway Multiple Listing Service, HGMLS
Member of New York State Association of Realtors, NYSAR
Member of National Association of Realtor, NAR
Member of Greater Fairfield County Multiple Listing Service, CMLS
Previously a Relocation Tax Specialist for KPMG
Fordham University Alumni
Fluent in Italian
Office Location
237 Mamaroneck Avenue
White Plains, NY 10605
Specifications
Languages: English, Italian
Specialties: Listing Agent, Negotiation, Client Relationship, Current Market Knowledge, Broker, Zillow Premier Agent, Face of Westchester, Top Agent, Americas Best List
Service Area: Ardsley NY, Armonk NY, Chappaqua NY, Cortlandt Manor NY, Eastchester NY, Elmsford NY, Goldens Bridge NY, Harrison NY, Hartsdale NY, Mamaroneck NY, Mount Kisco NY, New Rochelle NY, North Salem NY, Ossining NY, Pelham NY, Pleasantville NY, Port Chester NY, Pound Ridge NY, Scarsdale NY, South Salem NY, Tarrytown NY, Thornwood NY, Tuckahoe NY, Valhalla NY, West Harrison NY, White Plains NY, Yorktown Heights NY
Biagio's Testimonials
"Once again, thank you again for the smooth and expeditious transaction in my sale of 82A Oregon Avenue, Bronxville NY. You are a true friend and a more than competent realtor who is head and shoulders above any that I have seen. I could not have asked for easier movement through the sales process due to your expertise in the field. I would never waver on the decision to call you for any or all of my Real Estate needs. Congratulations on a job well done!"
F. & C. Nardone – Tuckahoe, NY (Chester Heights)
Gino and his team are the best in the business, hands down. They are also available and ready to get the job done. Very professional and always paying attention to detail, big or small.
Dematas - Scarsdale, NY
Gino is a great realtor. He is knowledgeable and quick to respond. He is personable and amicable.
L. Foster – Yonkers, NY
We can't say enough great things about Gino and his team! He is extremely intelligent and knows the real estate market inside and out. Gino pays incredible attention to detail and points out things in homes that other realtors never considered. He is very methodical and takes a very sensible and logical approach to the process. He is also very in tune to the softer side of the business. He really got to know us and helped us work together toward finding potential buyers for our home [...]
A. & H. Goldfine – North White Plains, NY
Great broker for the Westchester area. Just completed a buy with Gino. He went above and beyond many times, was always happy to show us all the properties we wanted (even 2-3 times), and had tons of expert advice when we found a place we liked. We've used a bunch of brokers in the past, but Gino was absolutely the best to work with. Definitely give him a call no matter if you are buying or selling!
W. Kurtz - White Plains, NY
Now that I have become a member of the team I understand the true professionalism that Gino shows to his clients and colleagues. From beginning of the transaction until after the sale is completed he treated each client as if they were his only client. This is why he has so many satisfied clients and repeat business and recommendations!
- Gerardo Magnarelli
Jessica was extremely professional and responsive to all of our real estate requests. She went out of her way in helping us to rent an apartment locally, and eased all of our concerns as this was our first time renting. I would highly recommend Jessica!
Jfingold - White Plains, NY
The photos Gino had taken of the house, showed the house in a very good light. It looked as good on the web site as I have ever seen the house. Both Gino and Gerry were available to help with any issues that arose, since we had already left the area. Gino is very high energy and keeps everything on a high note.
G. Borner - White Plains, NY
Gino Bello sold our home recently. Our needs were complex, we needed to sell the home quickly so as to not lose an opportunity with the purchase of another home. He advised us how to stage the home, and photographed it beautifully for the listing. We received multiple offers immediately. He was extremely helpful assisting us through the process. The house sold to excellent buyers. Gino did a great job as promised! His knowledge and availability was excellent. Most importantly to us, he [...]
D. Martinez - White Plains, NY
Gino was such a pleasure to work with. He was very polite and professional. He was readily available whenever I needed him and was always willing to help in any way possible. And to top it all off, he has the most magnetic smile!!!! Hands down, he is the best there is in the industry.
- Yonkers, NY