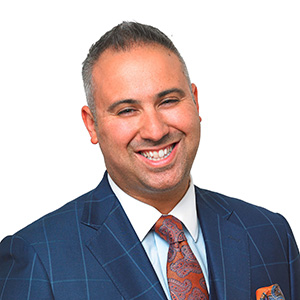 The Gino Bello Homes Sales Team
|
Associate Real Estate Broker
For Gino Bello, if his heart isn't in it, he just can't do it. That's why it was a relatively easy decision to leave his accounting job at KPMG to pursue a career as a realtor. "From the time I was pretty young, I knew two things: I loved real estate and I wanted my own [...]
For Gino Bello, if his heart isn't in it, he just can't do it. That's why it was a relatively easy decision to leave his accounting job at KPMG to pursue a career as a realtor. "From the time I was pretty young, I knew two things: I loved real estate and I wanted my own business."
So, at the age of 25, Gino began making his way in an industry where 92% of his colleagues don't succeed. "That's what drove me. I refused to fail." And, it didn't take long for him to realize he'd truly discovered his passion, and a deep commitment to his craft. "Two weeks after I got my realtor's license, I changed my license plate to 'Top Realtor.' Sure, I got laughed at, but my goal was to be the best at what I do."
Fast forward fifteen years, and Gino is among the top real estate agents in Westchester County. Behind him is a wildly successful team-based business he built from scratch with Gerry Magnarelli, his childhood best friend from the Bronx. He boasts about 800 homes sold over the last 15 years, and knows the ins and outs of buying and selling in Westchester like the back of his hand. Calling him "straightforward" and a "pleasure to work with," clients return to Gino again and again, relying on his expertise, his patience, and above all, his integrity. "I have no trouble sleeping at night because no matter what, the client comes first, not the commission."
Married to his college sweetheart, whom he met at Fordham University, this ambitious boy from the Bronx feels right at home in White Plains where he's raising three kids. "Every time I make a decision, I ask myself, what would my family think?" In this emotionally-charged business of complex but rewarding life-changing decisions, "there will always be rainstorms," he says, "but doing the right thing is what matters to me." And, for this accountant turned top realtor, "I just don't want to do anything else."
One of the Top Realtors in Westchester County in Transactions
2016 – Ranked 38 of 170 of Top Real Estate Agents by Transactions by Real Trends' America's Best Real Estate Agents
2016-2010 – "Five Star Agent Award Recipient" by Westchester Magazine
2015-2014 – Voted "Best Realtor in Westchester" by Westchester Magazine
2009 – "Rising Stars – "Westchester's 40 under 40 Award Winner" by Westchester Business Council
2008 – Featured in Westchester County's Business Journal – "Male Executives of Westchester"
Platinum Level Award Winner with Hudson Gateway Multiple Listing Service
Quality Service Certified
Accredited Buyers Representative, ABR
Short Sale & Foreclosure Representative, SFR
Member of Hudson Gateway Association of Realtors, HGAR
Member of Hudson Gateway Multiple Listing Service, HGMLS
Member of New York State Association of Realtors, NYSAR
Member of National Association of Realtor, NAR
Member of Greater Fairfield County Multiple Listing Service, CMLS
Previously a Relocation Tax Specialist for KPMG
Fordham University Alumni
Fluent in Italian
Office Location
237 Mamaroneck Avenue
White Plains, NY 10605
Specifications
Languages: English, Italian
Specialties: Listing Agent, Negotiation, Client Relationship, Current Market Knowledge, Broker, Zillow Premier Agent, Face of Westchester, Top Agent, Americas Best List
Service Area: Ardsley NY, Armonk NY, Chappaqua NY, Cortlandt Manor NY, Eastchester NY, Elmsford NY, Goldens Bridge NY, Harrison NY, Hartsdale NY, Mamaroneck NY, Mount Kisco NY, New Rochelle NY, North Salem NY, Ossining NY, Pelham NY, Pleasantville NY, Port Chester NY, Pound Ridge NY, Scarsdale NY, South Salem NY, Tarrytown NY, Thornwood NY, Tuckahoe NY, Valhalla NY, West Harrison NY, White Plains NY, Yorktown Heights NY
Biagio's Testimonials
Gino and his associates were extremely professional, caring and sold our home in a week. Their professionalism was of the highest caliber. We strongly recommend Gino & Gerry!
Irisarozamena - White Plains, NY
We spoke to several agents before we found Gino, and we're very glad that we did. Gino has been there for us throughout the process. He has been responsive and informative as well has helping us navigate all of the difficulties inherent in making your first home purchase. Gino was very forthright about what to expect, as well as how to go about each step. He had lots of useful recommendations and most importantly, I felt like he was on our side. Additionally I can [...]
K. Kerr – Scarsdale, NY
Jessica was great. She always had our best interests in mind. Extremely thoughtful. She was the best agent we worked with in our most recent search for a home. I would recommend her to anyone.
Ray Bermudez - White Plains, NY
Excellent agent, well-rounded knowledge and great personality to boot. Gino made me feel like he cared about my home search and helping me find the perfect place for my lifestyle.
Rheanewton - Yonkers, NY
There is a reason Gino is considered a top White Plains broker. He gets the job done, We couldn't be any happier Thanks Gino! It took us 6 weeks to find a buyer. Gino actually brought us two prospect's and both were at full asking price.
Silverman - White Plains, NY
Jessica was very very helpful in helping me find a rental, she is a good friend of mine, and I highly recommend working with her if you need help looking for a home, or apartment. She got everything done within two days tops, and I couldn't be more grateful to have been working with her!
- Mount Vernon, NY
Gino is knowledgeable, professional, personable and hard working. My husband and I couldn't be happier with Gino and his team. My husband and I purchased our first home and the process was seamless thanks to Gino and team. I highly recommend using him as your realtor.
V. & A. Conde – Hawthorne, NY
Gino was invaluable to us as we were purchasing our first homes. He understood what we wanted, steered us away from properties that may be problems in the long run and was always very responsive. He and his team had a great work ethic and were very supportive throughout.
D. Brijlall - White Plains, NY
Gino is a real estate expert! He guided me through the pre-sale preperation process (very important) and within 2 weeks of listing in December 2011 I had a successful negotiation with a qualified buyer. We closed within 57 days. It was a smooth process from beginning to end. I am a relocation expert (25 yrs.+), but when it came to my property, I needed an expert to manage the sale. Experts need experts, too! He gives excellent advice, solves problems quickly and is always available to [...]
- White Plains, NY
We bought and sold a home in January 2011 using Gino as our Real Estate Agent for both properties. Gino was very knowledgeable about the nuances of the areas we were looking at (e.g., quality of school systems, access to services, etc.) and was well informed in terms of pricing in different areas and how to best negotiate in an effective manner (both for buying and selling). Given the state of the real estate market, not surprisingly both our purchase and sale had their bumps in the road [...]
MMordus - White Plains, NY